Welcome to the arctic exhibition at Brandal
Ishavsmuseet Aarvak
An exciting history about the Arctic Ocean true heroes, the everyday heroes, and how an industry should have so much to say for a whole nation. Sealing and winter hunting. The men who fought against the forces of nature and homesick. Those who traveled out 15 year old without a doubt in their soul. The skipper and trappers. It was about survival and, perhaps sequel a dream of getting rich. Many did not come back, but got its watery grave.
Ishavsmuseet is beautifully situated in the centre of Brandal in an old wharfside shed formerly used for processing sealskins.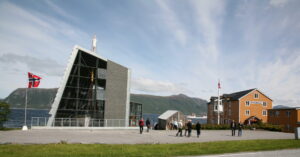 Brandal was a centre for sealing and expeditions to the Arctic fitted out from the west of Norway.
From the start in 1898, 57 small ships set sail from this small town; 41 were wrecked in the ice and in rough seas where the gods of weather in all their majesty can be merciless.
The Seal industry has suffered from major accidents, resulting in the loss of many lives; in 1917, 7 ships with a total crew of 87 men were lost. In 1952, 5 ships and 79 men were lost. In 1939, one ship on its way to New Foundland, and two ships on their way to the West Ice disappeared without a trace. The last reported shipwreck was Veslekari in 1998, in the West Ice. In a fifteen-year period from 1924 to 1939, 117 Norwegian vessels wrecked.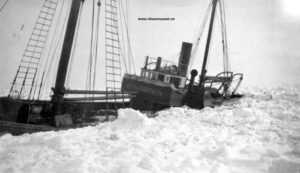 PETER S. BRANDAL 1870 – 1933 was the man who modernized sealing and started building bigger and stronger boats to get into the ice. Earlier sealers used small fishing vessels also in ice.
Peter S. Brandal left his hometownvillage soon after primary school at the age of 15, to be a fisherman. Later he contracted a new fishingboat and named it «Minna». He wanted to try new fields, so he travelled with «Minna» to the polar ice on sealing in 1898.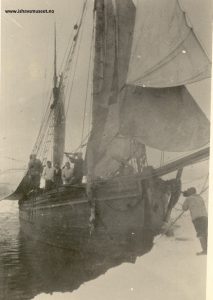 This was the very beginning of a new industrial area at Brandal, and the entire westren Norway. This lasted for about 100 years and made Peter S. Brandal's name well known all over the country.
Peter S. contracted over the years quite a number of sealing vessels. Ashore he built factories for the extraction of oil from seal and herring. At the time of the first world war there was a shortange of coal in the world. Than he joined some men in Ålesund and made a business company called Kings Bay Coal Company, which had coal mines in New-Ålesund, Svalbard.
They also built railroad there with 5 looks and 35 wagons. There had never been built railroad so far north earlier.
Ishavsmuseet displays a hundred-year history of sealing, over-wintering hunting expeditions in Northeast Greenland, and mining operations in Ny-Ålesund, Spitsbergen, or Brandal City, as the place was first named.
Exhibits cover 2500m2 in addition to the Arctic vessel, M/S Aarvak, constructed in 1912, brought to land in dry-dock and built in to the side of the museum.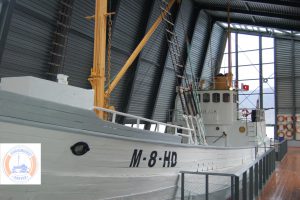 This vessel Aarvak was built by Kristin Dekke in Bergen in 1912. Remember another famous ship built in 1912? Yes, Titanic. But compared to Titanic, Aarvak is still with us today, after over 100 years. Aarvak is the oldest surviving vessel built especially for sealing after 1900. It has been rebuilt several times, from sails and steam engine with variable pitch propeller. As new, Aarvak was 90 feet long, 21.6 feet wide and 10.6 feet deep and got a steam engine with 74-horse power. In 1948, the steam engine was replaced with a Crossley diesel engine with 400-horse power. And in 1964 that engine was replaced with a 600 horse power Wichmann. This is the same engine that is still on board today. Now, the vessel has the following dimensions: 112.8 feet long, 22.8 feet wide and 10.5 feet deep. From 1912 until 1981, Aarvak was in service contiguously.
In 1900, during the first years with sealing, Peter Brandal and his brother went to the coast of Northeast Greenland. There they discovered several rare species like polar bears, whale ross, foxes, wolves, reindeers and not at least the musk ox. They decided that they wanted to bring some of these species home with them, and displayed them for the public in Ålesund. In order to make the most profit, they decided that it was necessary to overwinter. The first attempt was made in 1905 but this vessel crashed in the ice. The next attempt was in 1908 with the vessel Floren. Except for a few causalities, the expedition was claimed successful. The Danish Authorities disliked the Norwegian activity in the area, and the Norwegians were afraid the Danish would shut out the Norwegian sailors. So in 1931, Hallvard Devold and four other hunters occupied Northeast Greenland and renamed it Eirik Raudes land. This made the Danish authorizes furious and they demanded a trial in the International Court in Hague. Norway was found guilty on every point. The overwinter expeditions lasted until 1959.
The museum also has a section that contains the explorer Ragnar Thorseth. Ragnar Thorseth was born in 1948, and is a sailor, journalist, author and explorer. From the earliest age, Thorseth was fascinated by Arctic life and landscapes and the writings of explorers and adventurers such as Rasmussen, Amundsen and Jack London. His dream was to follow in their tracks with his own boat. In 1969 he spent ten days rowing single-handed across the North Sea. ln 1975, he undertook an expedition to Greenland, Northern Canada and New York in the wake of Leif Erikson. Between 1983 and 1986, he sailed his boat Saga Siglar around the world to make it the oldest type of vessel to have completed a circum-navigation. And in 1989, he spent four months filming polar bears around Spitsbergen. This is just a few of his expeditions. The most impressive is that he in 1982 led the first Norwegian expedition to reach the North Pole across ice.
1. March – 15. April: Mon. – Fri.: 12 a.m. to 4 p.m.
16. April – 31. May: Every Day 11 a.m. to 4 p.m.
1. June – 31. August: Every Day 11a.m. to 5 p.m.
1. Sept – 20. Oct: Every Day 12a.m. to 4 p.m.
21. Oct – 20. Nov: Mon. – Fri.: 12 a.m. to 4 p.m.
The museum welcomes groups from 10 people and more for guided tours also outside opening hours. Lunch and dinner can be served on request. Capacity of 110 in the same group for guided tours and serving
Price: Adults kr. 100,- Children kr. 45,-
Location: Brandal – Hareid, 20 min from Ålesund, 4 km from Hareid centre.
Website: www.ishavsmuseet.no